Air Angle Grinder (Stop-Spanner Free)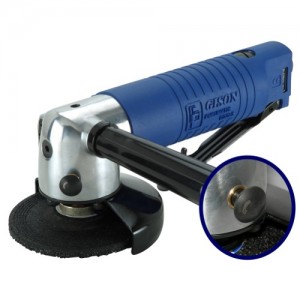 4"/5" Air Angle Grinder (Safety Lever,11000rpm)
GP-832LS
inquire now
Stop-Spanner Free
Patent: Over Speed Control Governor
Patent: Stop-Spanner Free
Wheel Size : 4", 5"
Spindle Thread : 3/8"-24 (M10)
Max Speed : 11,000 rpm
Net Weight : 1.69 kg
Length : 226 mm
Air Cons : 0.45 m3/min
Air Inlet : 1/4"
Hose Size : 8 mm
Air Pressure : 90 psi
Sound Pressure : 86 dBA
Vibration : <2.5 m/S2
Packing : 10 pcs/1.75 cu.ft/G:24 kgs
Stop-Spanner Free: (Patented)
While replacing grinding disc, fix Gear Shaft by simply turning and pushing the Stop Knob instead of using a stop spanner. Only Disc Spanner needed which performs efficiency, convenience and power-saving.
Over Speed Control Governor: (Patented)
The design of cutting off air prevents overloaded air pressure. It efficiently remains free speeds in standard RPM.
Applications
Ideal for cleaning casting, foundries, smoothing welds in forge shops, and smoothing applications in fabrication shops.
Patent: New Over Speed Control Governor