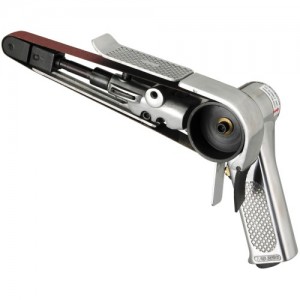 Air Belt Sander (20x520mm,18000rpm)
GP-902A
inquire now
This TAIWAN GISON's Air Belt Sander GP-902A uses 20x520mm sanding belt and the free speed is 18,000 rpm. Using different roughness of sanding belt, the tool can be used for metal materials, wood, plastic, stone, Glass and pottery surface grinding / sanding operations.
Type : Belt Sander
Belt Size : 20 mm x 520 mm
Free Speed : 18,000 rpm
Net Weight : 1.18 kg
Length : 345 mm
Air Cons. : 0.53 m3/min
Air Inlet : 1/4"
Hose Size : 6.5 mm
Air Pressure : 90 psi
Sound Pressure : 88 dBA
Vibration : 5.2 m/s2
Packing (1 Carton) : 20 pcs/1.6 cu.ft/G:17 kgs
Features
Finishing of flat surfaces,curved surfaces,and corner can be freely performed
by changing the shoe.
Since it is small,lightweight,and balanced so that the grinding surface is
stable,extremely fine finishing is possible.
Since the grip can be freely adjusted to the idealangle,it is extremely safe and
work can be performed easily.
The grinding sceed can be freely changed according to the application.
Rear exhaust eliminates flying dust and noise.
Applications
Finishing metal carts and products.
Finishing welded surfaces.
Trimming parts.
Filleting.
finishing steel capinets and furniture.
Foundation finishing prior to coating.
Finishing plastic croducts,glass,and earthenware.
Finishing stone and decorative wood products.
Finishing sashes and other building material.
Light and medium duty auto,ship and aircraft finishing.