GISON's special vacuum cup design hand drilling machine stays on all surfaces
It's easy if you know how, it took me 10 minutes to get used to this innovative portable vacuum hand drilling machine. It drills straight, clean and accurately. It allows vertical, horizontal and straight into surface drilling. It attaches to any surface, whether smooth, rough, wet, greasy or dusty, it would work just as good. Sounds like magic?
Disadvantage of old style drilling machine
Sometimes, drilling a hole using a portable power drill can be a pain. Holding a drill in a tight space or trying to drill in the wrong position is tiring. Trying to drill thick steel can be time consuming, plus with a cordless drill, drilling going off at an angle is likely to happen. And if the drilling takes place at a construction site, regardless of H-shaped steel or metal plate, moving them back and forth can be a handful, let alone working overhead.
While you may think a handheld magnetic drill machine should take care all of the issues, however, it can only work on iron, and the iron gets hot in the sun which decreases its magnetic effects. What about drilling on wood, cement wall, concrete or marble? Sometimes you just wish to have one that can be used for different materials and sites.
A drilling machine that takes care of everything – GPD–231
GISON started to build pneumatic tools 42 years ago, with all the collected user experiences and engineering skills, they decided to design a power drilling machine with total solutions. Ten years later, a portable, light weight, powerful drill machine was designed with vacuum suction function, which allows it to attach to any surface - the GPD-231.
Controlled drilling depth - GPD–231 drilling machine
GISON's drill machine is equipped with a ruler for the control of drill depth. Unlike the traditional drill machines, drilling depth is controlled by a depth-stop spindle. With the measurement attached, you can see the depth of the drilled hole and set the depth initially to assure its accuracy. Once the drill reaching the set up depth, it would be hard for you to drill further.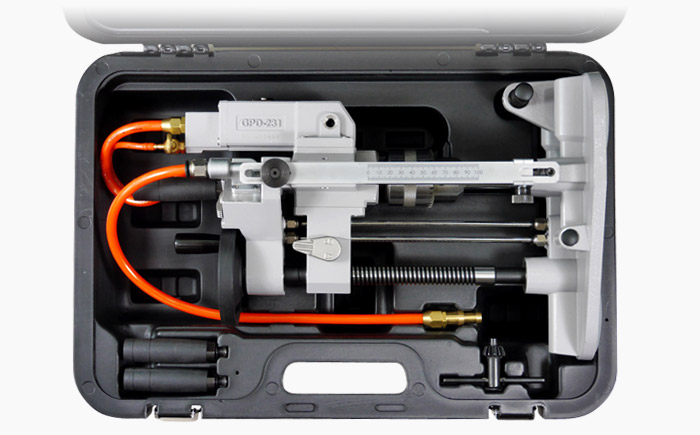 GISON's hand drilling machine was tested outdoors for over six months, the environment didn't affect its performance, the vacuum suction still work perfectly.
Drilling machine suitable for coarse surfaces and materials
Most of the suction cups only work on smooth surfaces, GISON's hand-held drilling system works on various surfaces. It is applicable to various materials, including steel, lumber, plywood, cement wall, marble, etc. Wet, greasy, slippery, dirty surfaces, they all work. In addition, no fixing device is needed during drilling.
* The vacuum suction attaches to the surface of the wall firmly.
Industrial drilling machine - one vent pipe, two air sources
The water yield is valve-controllable and the water comes from either the drill chuck or the bores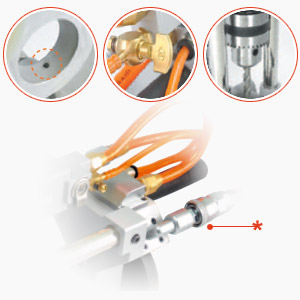 * only needs a small 4 HP air compressor, no extra vacuum generator needed.
There are two hoses, one for the water, the other one for the vacuum suction and the drilling power. The smart design of the drilling machine not only reduces the endless wires and hoses. It is also energy-saving because it only needs a small 4 HP air compressor, no extra vacuum generator needed. Moreover, water valve is designed to control the water, which comes from drill bit and from where the hole is drilled.
Light weight. Easy to carry hand-held core drilling machine
GISON's portable drilling machine solves all the problems. It weights 9.53kg with 1,500 rpm speed, maximum drill bit size 125mm, 4HP air compressor without additional vacuum pump (vacuum generator) required. Drill bit's size is changeable based on the material and drilling bore size, and there are three suction cups, 86mm each, with strong suction power.
It's a hand-held core hand drilling machine, although once it is attached on the surface, its weight is not a concern. Here we are talking about drilling vertically, not straight down. The hand held drilling machine can handle heavy weight without falling off, even after sitting outdoors for over six months.
How to operate a vacuum suction drilling machine?
Step 1: drill bit installation
Buying a drill bit is critical because it can determine the quality of the drilling and the hole. You can use drill bore size up to maximum 43mm. There are plenty of bits on the market. Cross bit, pilot bit, coring bit and non-coring bit are adaptable. Diamond drill bits are used on stone and cement material for sizes like faucets.
Step 2:
First, you need to install a drill bit. By rotating the drill chuck to the left or right, you are either tightening or losing the bit. Simply use a spanner to loosen the chuck, insert the bit and then tighten the chuck to secure it. Once the drill bit is installed, you are ready to go.
Step 3: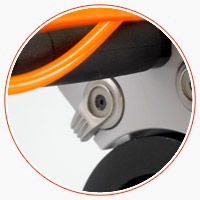 The switch for suction cup
Third, turn on the switch for the vacuum suction so it is clenched tightly to stay on whatever the material that is going to be drilled. Move toward to the surface by holding the handle bars, which are located at three different parts, one on both ends, and one in the middle. Once it is attached, make sure it is tightened, then it is ready to drill.
Since vacuum suction and drilling power come from the same air source, it means both are coordinated together. Therefore, there's no worry about the falling drilling machine.
Step 4:
Turn on drill switch. Turn anticlockwise to start drill.
Step 5: Turn water switch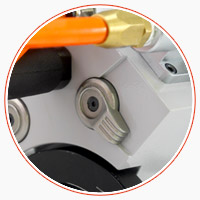 The switch for water
To clean up your mess as you drill, turn on the water valve. It will remove the dust collected during drilling. Not every drilling needs water for moisture, cool-off and dust removal. Only stone and cement wall material, not wood or metal. The water leaks out from drill chuck and drill bore.
Step 6: Start drilling with a hand control black round wheel
When you move counterclockwise, the drill bit moves forward, and vice versa. When the drilling machine is attached to the surface, all you need to do is turn and drill, very simple. The great part about the wheel is that you could adjust drilling speed based on the material. Since the machine stays on various surfaces, it means all material is drillable, including cement wall, lumber, plywood, stone back, H-shape steel, marble, etc. By the way, they are tested by sitting outdoors vertically, on the wall, for six months!
For harder material, it would take more power to drill. You could use hand grid to turn the black wheel to control the speed.
* To drill bigger holes, drill bore can be switched to maximum 43mm.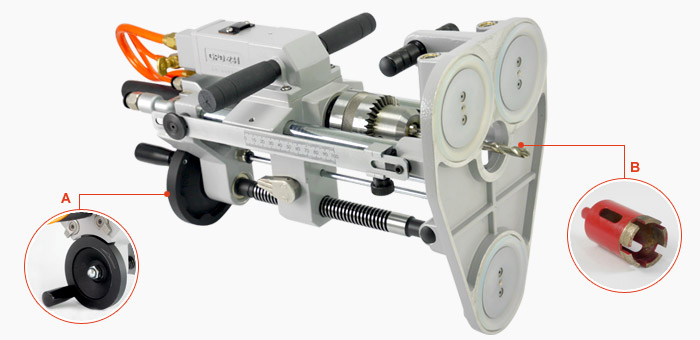 (A). The hand wheel for slow feed.
(B). Drill bore can be switched to maximum Ø43mm.
Step 7:
Once the hole is drilled, turn off air motor, and then turn the black wheel clockwise to remove the drill bit from the hole. Turn off the water inlet switch; turn off the vacuum section switch. Now you can remove the drilling machine by holding the handlebars.
The hole drilled by GISON's portable drilling machine is clean, precise and straight with low-noise operation. It is suitable for heavy duty construction work.
Feature of GPD–231 Hand Drilling Machine
Suitable for coarse surfaces and materials such as cement wall, plywood, stone, steel sheet....,
When drilling, vacuum suction is equipped to prevent from falling (Do not let go of your hand unless it is attached to the wall firmly.),
The vacuum suction attaches to the surface of the wall firmly, which means the drilling momentum is not affected,
one single air source for both vacuum pump and pneumatic drill,
maximum 1,500 RPM free speed with adjustable function,
adjustable water yield amount from drill bit and drill section,
drilling depth set up is available,
drill bit is easy to remove and insert,
no extra vacuum generator is needed,
great replacement for traditional magnetic drill machine,
attaches to various materials, not just iron,
with no dust diamond drill bit, the drilling hole is smooth, drill size is precise and the performance is high,
10kg light weight design,
suitable for industrial building construction and decoration,
vacuum suction for various surfaces.
New Vacuum Suction Drilling Machine Application:
Hotel, mansion, construction site or performance stage where you need to drill on h-shaped steel or any material (by simple switch the drill bit), GISON's portable hand drilling machine allows you to drill holes anywhere you want, specifically for industrial usage.
Specification of GPD-231
GPD-231
Max. free speed
1,500 rpm
Drill chuck size
5/8"(16 mm)
Max. Drill Bit Length
125 mm
Drilling Bore Size
Ø43 mm
Suction Cup Size
86 mm x 3 pcs
Weight
9.53 kgs
Size
46 x 24 x 28 cm (Horizontal, LxWxH)
Working Pressure
6.3 kgf/cm&sup2 (90 psi)
Air Inlet
1/4"
Hose Size
6.5mm
Air Cons
0.56 m&sup3/min (20 SCFM)
Sound Pressure
92 dBA
Changeable Drilling Bits
GPD-231 allows various drilling bits depending on the wall.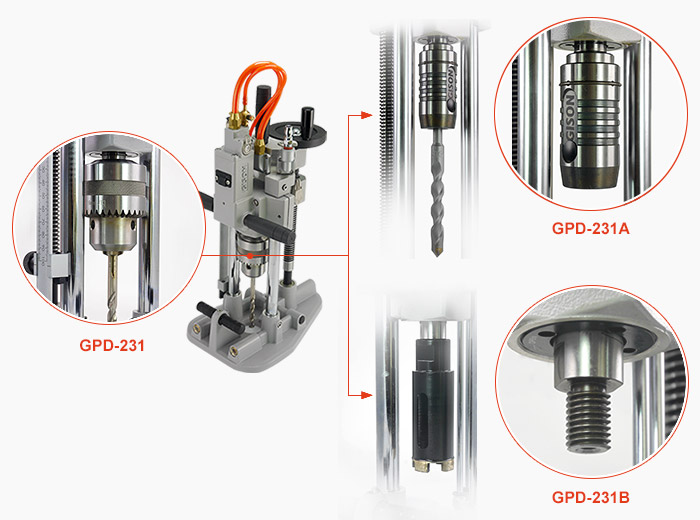 GPD-231A and GPD-231B
GP-UAS Uninterruptible Air Supply - Backup Air Supply to Prevent Malfunction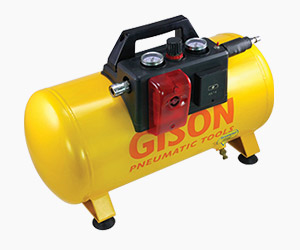 GP-UAS - The uninterruptible air supply
GP-UAS works like an UPS (uninterruptible power supply),except it provides emergency air rather than power, therefore we call it uninterruptible air supply (UAS). GISON has been providing pneumatic handheld tools for over 40 years, their patented UAS design is an accessory for workers to make sure their drilling machine can output the power required to operate properly in case of a power outage.
GP-UAS Uninterruptible Air Supply (GP-UAS) is suitable for portable pneumatic tools such as handheld drilling machines, vacuum suction base portable drill stand and vacuum pick-up tools, which require sustainable air supply during operation. Especially for some countries or rural areas where electricity system can be unstable, which could damage tools or cause danger at construction sites. In that case, a backup system becomes extremely essential. With the Uninterruptible Air Supply (GP-UAS), pneumatic handheld tools remain functional, even if the air supply electricity fails.
GP-UAS Uninterruptible Air Supply Operation Procedure
GISON's mechanically designed uninterruptible air supply provides air through an air barrel that holds 22 L of air with a maximum of 10 kgf/cm&sup2.The air stored in the UAS would be supplied from an air compressor and provides emergency power to a load when the main power fails. The green air hose attaches to a handheld pneumatic tool and the orange air hose connects to an air compressor. The pressure monitor system indicates the pressure level, which allows you to make sure the hand tool doesn't fall off when the air supply is low. Between these two monitors, there's an air regulator for you to adjust the air pressure in order to control the air flow.
The system beeps when the pressure in the air barrel is lower than the pneumatic hand tool, which sets off a trigger to beep. Conversely, if the pressure in the air barrel is higher than the tool, the alarm is not triggered. In addition, there's a switch to turn off the alarm and a pressure relief knob for releasing the pressure.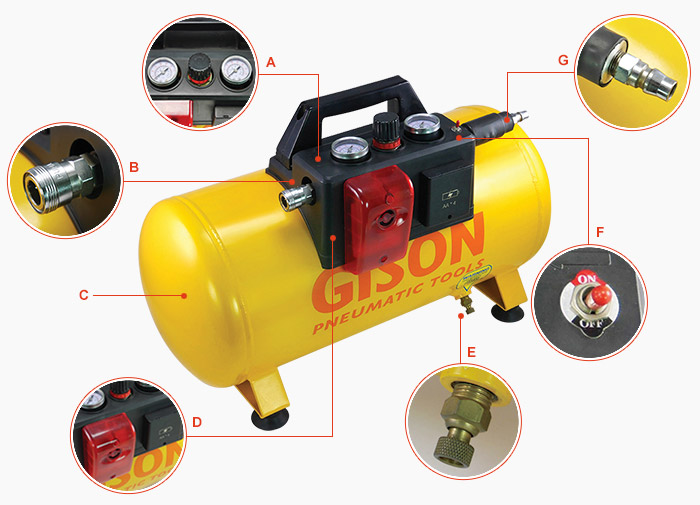 (A). Left: Output air pressure. / Center: Air regulator. / Right: Input air pressure.
(B). Air socket (Air output)
(C). Air reveiver 22L
(D). Left: Buzzer. / Right: Batery box.
(E). Pressure relief knob
(F). Buzzer switch
(G). Air inlet (Air input)
GP-UAS Uninterruptible Air Source - Simple Design & Low Price
Using electronic backup equipment to detect pressure in the drilling machine is viable, however, it's costly. Plus, the weather condition can be harsh for the equipment, and electricity supply can be unsteady in some regions. GISON's mechanical designed GP-UAS uninterruptible air source supplies air through an air barrel. The air output goes through a green wire and the orange one for the input air. An alarm goes off for a few minutes when the pressure is low, but even so, the drilling machine continues to operate until the air in the barrel is completely empty. In that case, workplace accidents are prevented and work is more efficient.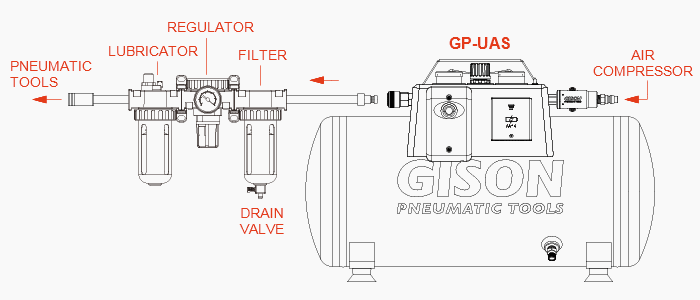 Specification of GP-UAS
GP-UAS
Air receiver
22 L
The max. storage pressure
10 kgs/cm&sup2
Net weight
11.15 kgs
Size (L*W*H)
56*27*36 cm
Battery box
4 pcs AA batteries (without batteries)
Packing
1 pc/2.94 cu-ft/G.W. : 13.8 kgs