GISON's strict working process guarantees quality pneumatic tools
New product design:
When developing a new product, every detail is designed from scratch and each part is made 100% by GISON, and this is all conducted by a team of engineers who have an average of over 20 years' experience.
From making one single sample product to mass production, there's a series of tests and trials. Sometimes, a new product is re-designed and tested over and over for a long time before it is even considered as a sellable product, thus, normally there are many versions of each product. On the other hand, if it's a regular pneumatic hand tool ordered from the existing products, mold ordering is created after negotiation.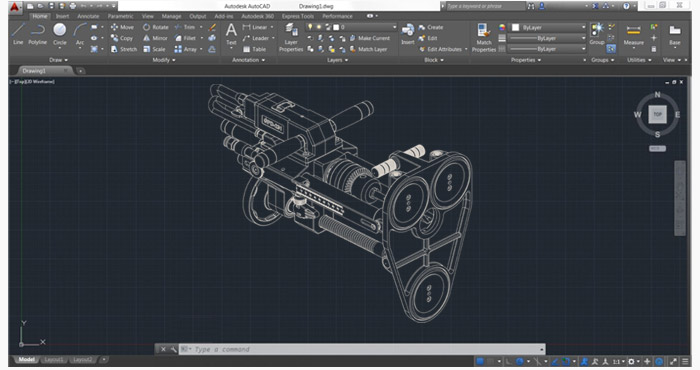 GISON's handheld vacuum suction drilling machine design sketch.
Mold making and part making:
GISON has over 500 molds just for the machining process, let alone molds for the pneumatic tool itself. For the last 40 years, they've been working closely with a few professional mold makers to assure the high quality of each air powered hand tool.
Milling process during pneumatic tool manufacturing
To assure pneumatic tool's quality, GISON insists on making rotor and motor 100% on their own. As for the heat treatment and casting process, GISON cooperates with other suppliers in order to complete the job.
First pneumatic hand tool check-up before mass production:
When a power tool is made, staff has to make sure all the measurements are correct before handing it to the inspector. Inspector ensures the component meets specific standards, using prepared gauge that is built specifically just for this purpose. Once product passes examination, mass production can start.
Power tool onsite inspection:
Along with hourly regular check up, there are inspectors from QA department to do more specific and strict inspections. It's a twice a day check-up and the exam items including pneumatic tool's angle, size, roughness, whether the edge is chamfered, if geometric tolerance is meeting the standards, appearance, etc. During hourly check up, if there's a flaw, problem can be traced back to an hour before in order to spot the error quickly.
Self-designed gauges / jigs / clamps:
Air tool's manufacturing process requires tools for machining, testing and positioning; therefore, having a team of engineers that is knowledgeable about mechanical and electric tool design is critical. At GISON, our engineers design their own gauges, jigs and clamps whenever it is required in order to achieve product's precision. Built gauge, jig and clamp are equipped to various processing equipment, ranging from vertical and horizontal milling machine, lathe machine and CNC machine. Clamping is used for polishing, grinding, and drilling process.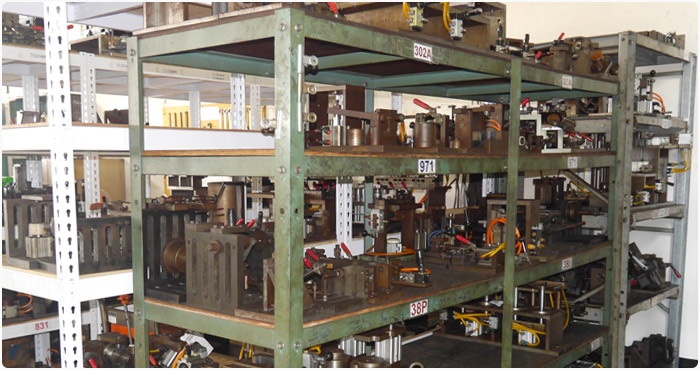 GISON's self-designed gauges/jigs/clamps for pneumatic tools.
QC/Lab test:
Self-designed gauge, jig and clamp are all tested and developed at a lab. The engineers are the reason why GISON is able to come out with innovative ideas to build functional pneumatic tools.
When a hand drill is made, its appearance is checked for polishing, electroplating and coating performances, and to check whether there are black spots. Whether a burr is created during process or uneven surface is caused by die-casting and the smoothness of surface, they are important factors to consider.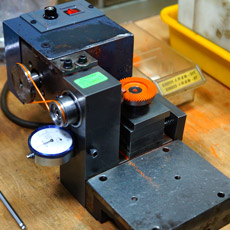 This equipment is used to exam the gear ratio's relationship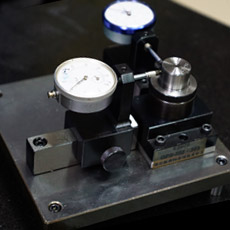 Degree of eccentricity exam equipment that is designed by GISON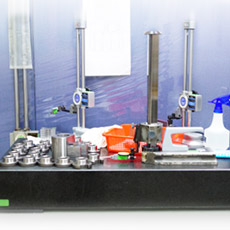 To avoid the temperature affect on the result, the height measurement machine is built by marble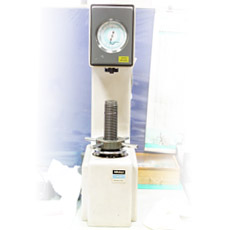 Hardness test machine after heat treatment is processed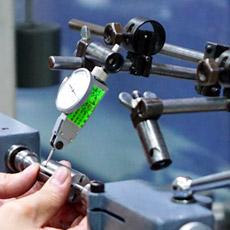 rotor's concentricity test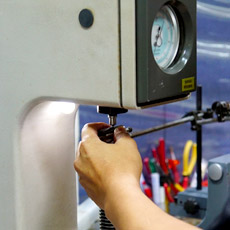 hardness test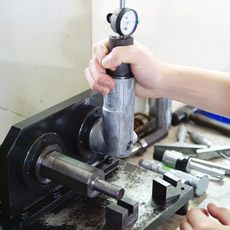 Pneumatic tool's cylinder test of the distance between two axles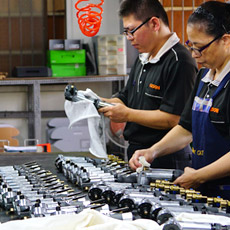 eye visual exam of air angle grinder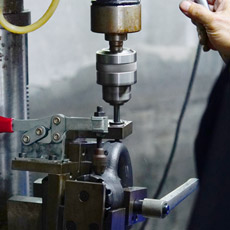 By switching jig and drilling bit's size, drilling machine is able to operate on any pneumatic tool part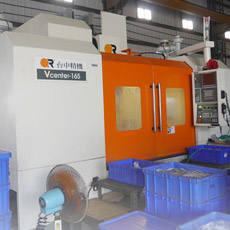 Computer controlled milling machine for air tool's (drilling machine) machining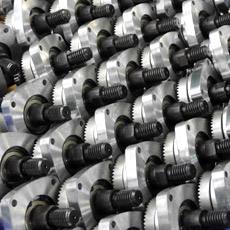 Pneumatic tool's gear wheel part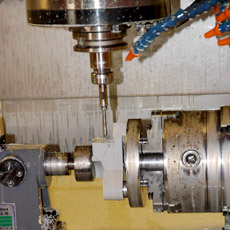 Precision CNC Machining is performed to create high quality pneumatic tools
GISON air pneumatic tool manufacturing process flow chart
Design + Sample manufacturing
Sample product trial and test
Mass production: Mold making
Air-powered pneumatic tool metal-forming process:
investment casting, plastic injection and die casting
Pneumatic tool part tooling, polishing and machining
Air tool onsite inspection by onsite staff and QC staff
Pneumatic tool assembly
Final product check up before packaging
Packaging
Shipping